Ocean City Inlet, Maryland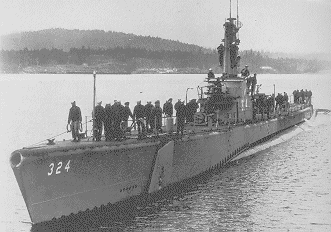 Built by Electric Boat and commissioned July 27, 1944, Blenny was one of 195 Balao class submarines. The main difference between the Balao and Gato class boats was the thickness of the pressure hull. Gato boats had 11/16-inch plate, 27.5 pounds per square foot hulls, as compared to the Balao's more robust 7/8-inch, 35 pounds per square foot. Consequently, the Gato boat's safe diving depth was three hundred feet; the Balao boat's was an additional 100 feet, for four hundred feet maximum.
Under the command of Lt. Commander W.H. Hazzard, Blenny arrived in Pearl Harbor October 15, 1944 ready to add to the American war effort. She began her first patrol on November 10 and was broken in quickly when a failed torpedo attack on a Japanese destroyer garnered a depth charge pummeling. She rebounded with a vengeance, sinking a 300 ton sea truck on December 14 with her deck guns and later in the same day a small destroyer. Two weeks later Blenny ambushed a troop-laden transport, the Kenzui Maru, 10,000 tons, and sank her with torpedoes. She also damaged a freighter.She ended her patrol on January 12, 1945 at her new base, Fremantle.
Stationed off the coast of French Indo China, Blenny sank a 10,200 ton tanker, Amato Maru, and damaged two others during her second patrol. After a torpedo refit in Subic Bay, Blenny returned to her patrol area. Two weeks later she sank three small cargo ships totaling15,750 tons and a fishing craft.
On April 16, Blenny exited Subic Bay for her third patrol. Assigned lifeguard duty for American aviators in the South China Sea, she managed to squeeze in a little battle action none the less. Hazzard had the boat backed into shallow water to fire off a stern shot at the sub chaser Kairyu one night in May. To complete her success, she sank the freighter Hokoku Maru and a minesweeper a few days later. Blenny ended her patrol on June 9, 1945 in Fremantle.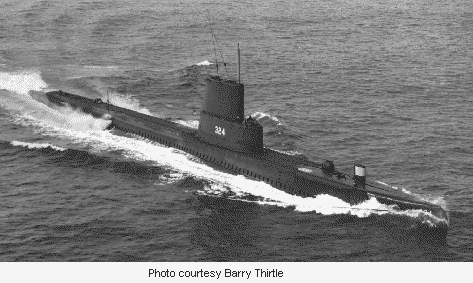 Blenny started her fourth patrol on July 5 stationed in Java Sea. She sank a sea truck by gunfire on July 11 and five days later torpedoed a small gunboat. She completed her last patrol by sweeping the ocean clear of numerous small fishing craft, sampans, and junks that were stopped and inspected for war materials the Empire so desperately needed. Blenny was involved in one other notable action. Another American submarine, Cod, put a six man boarding party aboard a large junk and was caught by a Japanese plane. Cod was forced to abandon the crewmen and lost contact with the solitary vessel. In the following search involving five submarines, the crew was rescued by Blenny. This patrol was terminated at Subic Bay on August 14, 1945.
Blenny was awarded four battle stars for her part in the war. She sank over 80 Japanese vessels totaling 43,000 tons and damaged four ships.
After the war, Blenny left Subic Bay headed for San Diego. She was detained in Guam until Janauary 1946, finally returning to San Diego via Pearl, arriving 30 January 1946. Following the war, she was based on the West Coast and took part in fleet maneuvers. She was converted to a Guppy class submarine in 1951. This entailed additional batteries and streamilining her hull for greater underwater propulsion (the source for the acronym GUPpy). During the Korean War, Blenny took part in a reconnaisance patrol. For this she received a fifth battle star.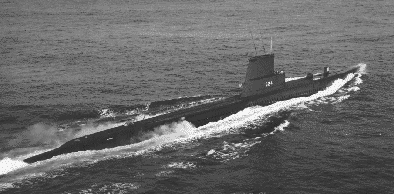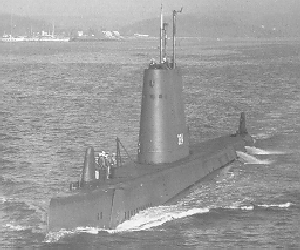 After the Korean War, she returned to the Pacific Coast. In 1954 she was ordered to the Atlantic Fleet and based out of New London. Her conning tower superstructure was replaced in 1966 with a fiberglass hydrodynamic sail that was less detectable to radar and active sonar. For the remainder of her career she was used as a test bed for the emerging passive sonar technology necessary to detect enemy submarines. Blenny was decommissioned in 1969, after 25 years of service to her country.
Blenny's final resting place is 12 miles southeast of Ocean City Inlet, Maryland in seventy feet of water. She was ceremonially sunk while forty-four of her former crew members, including her first commander, watched. Blenny continues to serve as an underwater memorial for sport and wreck divers.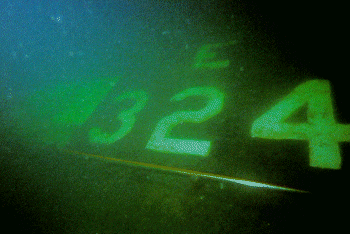 ---
For more Blenny information, photos,
and war patrol reports, proceed to:

---
Return to the CyberSub Flotilla